NBS released GDP numbers for Q1 yesterday, surprising on the upside (1.3% q/q vs. 0.6% Bloomberg consensus, not annualized; 4.8% y/y vs. 4.4%).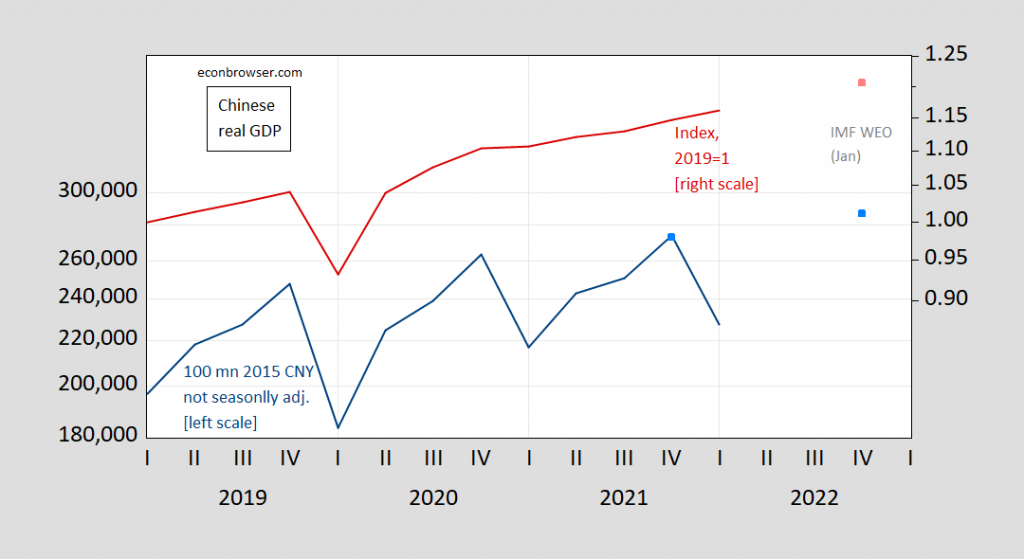 Figure 1: Real GDP, 100 mn 2015 CNY, not seasonally adjusted (blue, left log scale), and IMF forecast from January WEO (blue square), and index, 2019Q1=1 (red, right log scale), and forecast from January WEO (red square). Index cumulated from reported growth rates. Source: NBS, and IMF WEO (January 2022), and author's calculations.
Chinese industrial production in March also surprised on the upside (5.0% y/y vs. 4.5% consensus) as did fixed asset investment (9.3% y/y vs 8.5% consensus). However, retail sales were down 3.5% y/y vs. down 1.65% consensus reflecting the latest Covid shutdown. (On the latter, see here on production impacts).
From Reuters:
Final consumption accounted for 69.4% of China's first-quarter GDP growth, down from its 85.3% share in the fourth quarter of 2021, data from NBS showed.

"Even if the Q1 GDP growth is larger than the 4.0% growth in Q4, it's still far away from China's annual target of 5.5% growth. March's growth is severely impacted by the anti-virus curbs, reflected by the greatly hit consumption in the service sector," said Wang Jun, chief economist at Zhongyuan Bank.

"Second quarter this year will suffer greater pressure, and to what extent the economy loses steam will depend on whether China would make flexible adjustments to its anti-virus measures and offer greater support via its macro policy," said Wang.
The real estate sector is still continuing to threaten overall growth.
Home sales by value in March slumped 26.17% year-on-year, the biggest drop since January-February 2020, according to Reuters calculations, pointing to a deepening downturn in the property market.
I'm setting aside questions about the accuracy of the official series, as discussed in this post (regarding Q3 numbers). You can see the Fernald, Hsu and Spiegel CCAT series up to 2021Q4 here (where the tracking indicates slightly less growth than the official 4 quarter growth rate).
The IMF will be presenting its April 2022 WEO forecasts tomorrow. Watch to see the revision!