Senator Ron Johnson, on Foxconn, in 2018:
"Today's groundbreaking is the start of an exciting chapter for southeastern Wisconsin. Not only will our state benefit from the jobs created directly at Foxconn, but also indirectly throughout the economy. I want to congratulate President Trump, Gov. Walker and Speaker Ryan for the commitment and vision to make this possible."
Senator Ron Johnson, on Oshkosh Corp., in 2022:
"I wouldn't insert myself to demand that anything be manufactured here using federal funds in Wisconsin," Johnson told reporters after appearing at a "Parent Empowerment Rally" in Washington County. "Obviously, I'm supportive of it. But in the end, I think when using federal tax dollars, you want to spend those in the most efficient way and if it's more efficient, more effective to spend those in other states, I don't have a real problem with that."
I'm not a big fan of targeted investment subsidies, or industrial policies generally. However, the fact that Senator Johnson isn't willing to try to persuade a company to invest in his home state is kind of befuddling – he could try to jawbone without spending any public funds.
All I can say is his support for the Foxconn adventure speaks volumes for his judgment, as evaluated by the Mercatus Center. Remember, even if tax credit payments have been relatively small due to Foxconn's general failure to invest, localities spent hundreds of millions on infrastructure investment, etc.
I am glad the Senator Johnson feels like Wisconsin has enough jobs, though.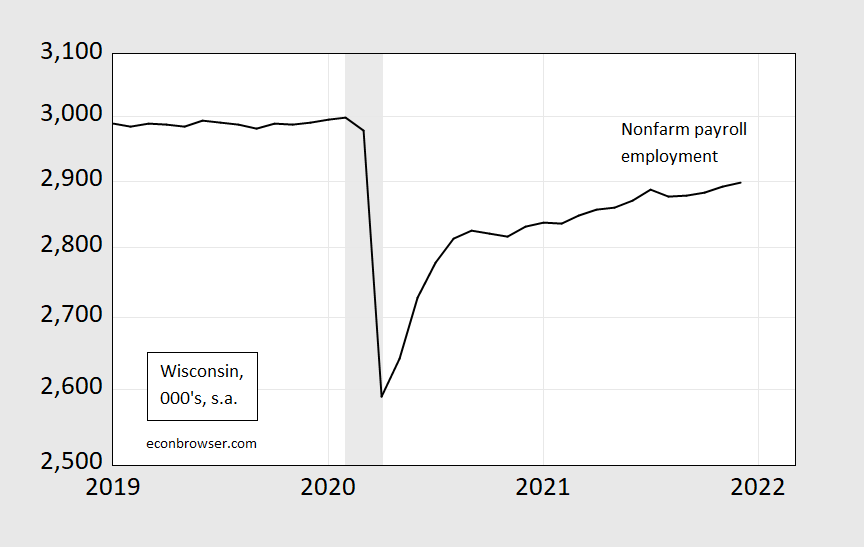 Figure 1: Wisconsin nonfarm payroll employment, in 000's, s.a. (black). NBER defined recession dates shaded gray. Source: BLS via FRED, NBER.